'Sims 4: Discover University' New Features + Review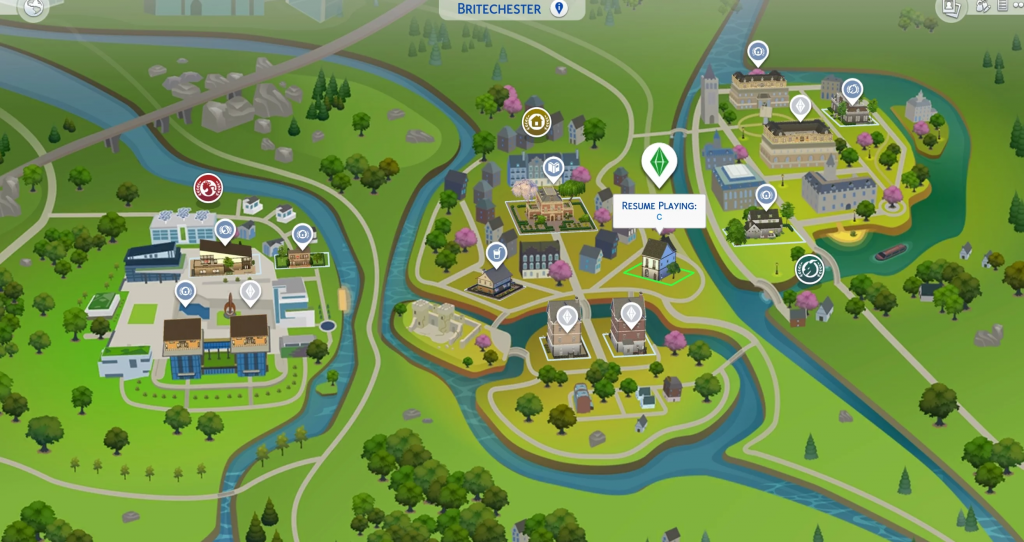 I had really high expectations for this pack, as did the rest of the Sims community. I think from the day of it's initial image leak (September, 2019), I had a really good feeling about the release of this pack. I was prepared to feel disappointed but shocked to say that I wasn't actually disappointed by this pack.
There are definitely some issues that I am going to mention but overall I'd say it's worth the $40.
CAS/Build & Buy Items
I think that every pack shows that the hair textures in particular are getting better and better. I generally feel like they moved from a more stylized look to a more realistic, detailed look! I like it a lot! They added a ton of tattoos, piercings, and shoes, as well.
There are no new traits (seriously EA?) but there is a new aspiration. Traits are so intrinsic to personality and game-play but they've been neglected once again. Oh, well.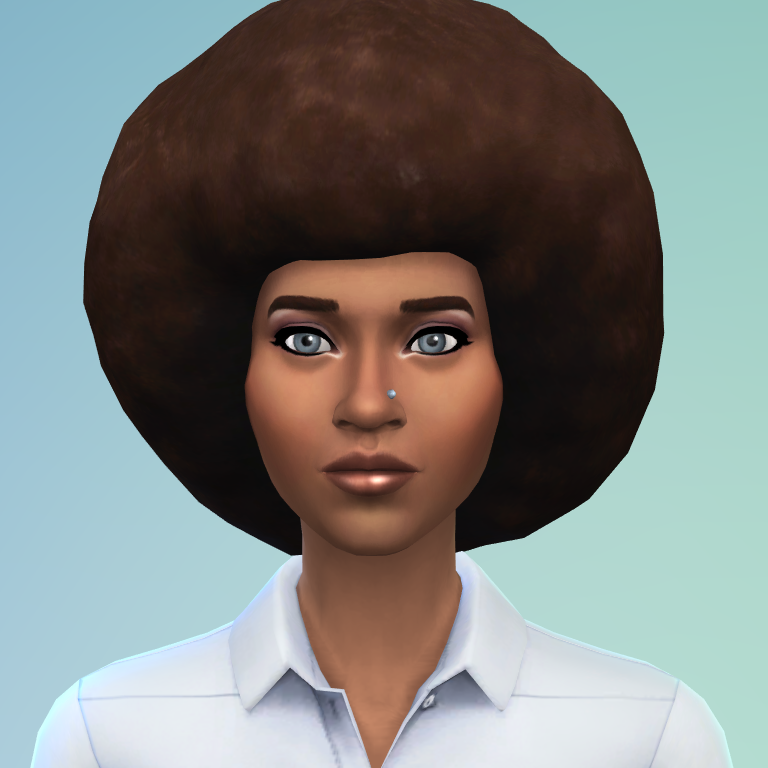 Males are often neglected when it comes to CAS items, but many outfits were added for them; there are a lot of unisex items to choose from, as well. They didn't add content for kids but it makes sense that more items were added for young adults and older sims. We still don't have preschool (ahem, without mods) for children, and honestly high school isn't great either, but hopefully EA will add that at a later time…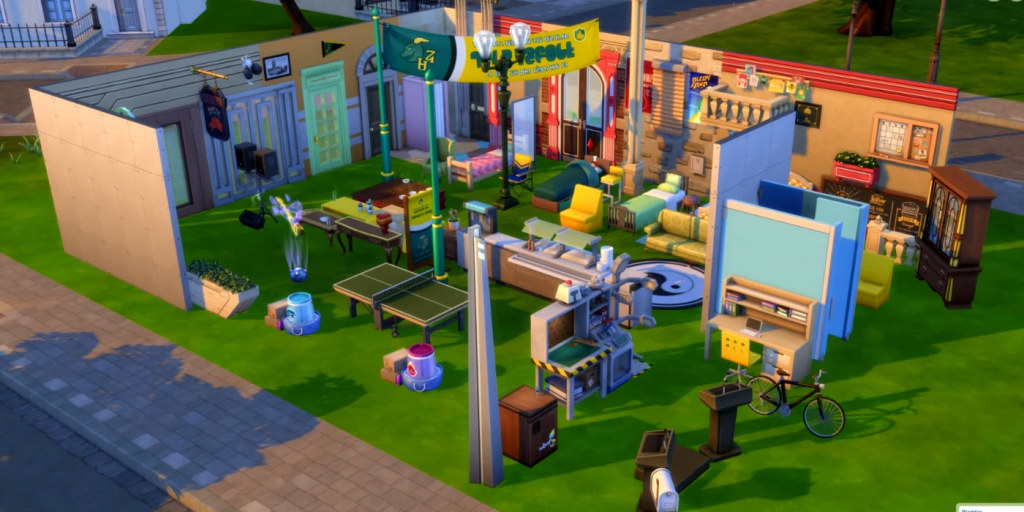 There are the right amount of University themed things (dorm beds, university gear, mini-fridges, some really cute dorm clutter) and, thank goodness, all of the furniture and build pieces have matching color swatches.
We Get Bikes!
And they're fully functional outside of the University world. They're quite intuitive to the map. If you're going around a curve, the movement of the bike follows. Very realistic. Good job EA. Also, they build the fitness skill, although I wish there was a bike skill as well.
Here is a mod to give children access to bikes. Thank you Sims community.
General Game-Play
You can now click on the mailbox or PC to apply for scholarships and enroll in either Britechester or Foxbury University. There is a 2-3 day wait time for pending scholarships and another 2-3 day wait period for enrolling plus a 75 simoleon application fee. Both universities offer the same classes but their distinguished degrees are different, and depending upon your Sim's skill level, they might not be accepted into these degrees. This is also reflective of realistic game-play. Also, it's actually hard to get accepted into University. My sims-self was accepted for many different degrees with access to several scholarships. My other young adult sim who had just aged from being a teenager had a little bit more trouble. I was denied the first time and was honestly shocked. I did not see it coming. Finally some repercussions in the game! Thank you, Sims team.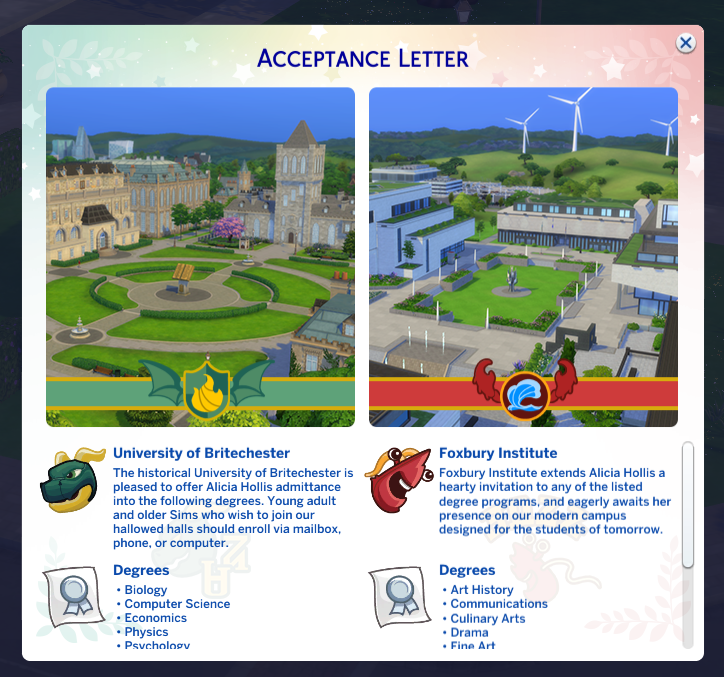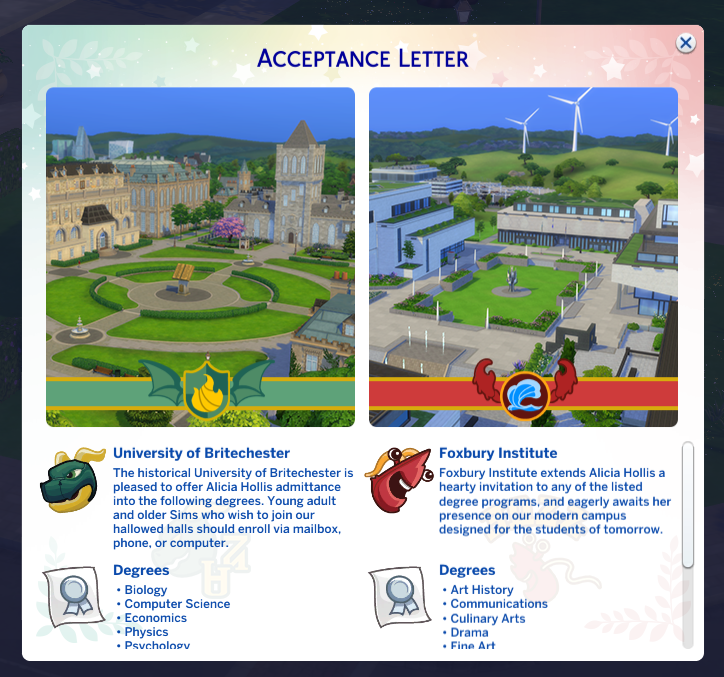 There are quite a lot of scholarships to choose from. It isn't as wacky as the Sims 2 where being a zombie could get you a scholarship but poorer sims can opt to pay for their tuition via household funds or student loans + interest. Scholarships will expire and you must reapply if you opt to disenroll.
You can take up to 4 classes – I did 3 major classes and 1 elective – for a grand total of 12 semester hours. Classes last for exactly 1 week, Monday – Friday. You can potentially graduate if you apply back to back in a span of 3 weeks in-game.
Features
The campus feels so much more immersive now that the whole map has both campuses on it and you can travel back and forth between the different worlds with ease. In previous Sims games, university was basically like living in a single world until you graduated – you couldn't travel outside of it. You can also choose to live off-campus or on-campus in this expansion. I lived off-campus with my sims-self and I don't think it felt as immersive. I got notifications every once in a while that notified me of a campus event but I just felt so busy doing my own thing that I didn't feel the need to participate. I do wish that more of the advanced level classes would force me out into the University world. Remember the sketch pad from Sims 3? Also, I believe fitness-related activities force your sim outside.
You get 3 new careers out of this expansion – education, engineer, and a law career
When your sim graduates from University, you will get a significant head start in their new career and a signing bonus. While enrolled in University, there is an e-sports career that will reward scholarships, but only if you stick with it throughout the entire semester. I thought this was a really cool new feature. You can participate in e-sports tournaments that will bring in small funds for your sim if they win.
Also, if your sim achieves enough promotions in their e-sports career, a teammate will message you about dropping out of University and starting a career with a signing bonus!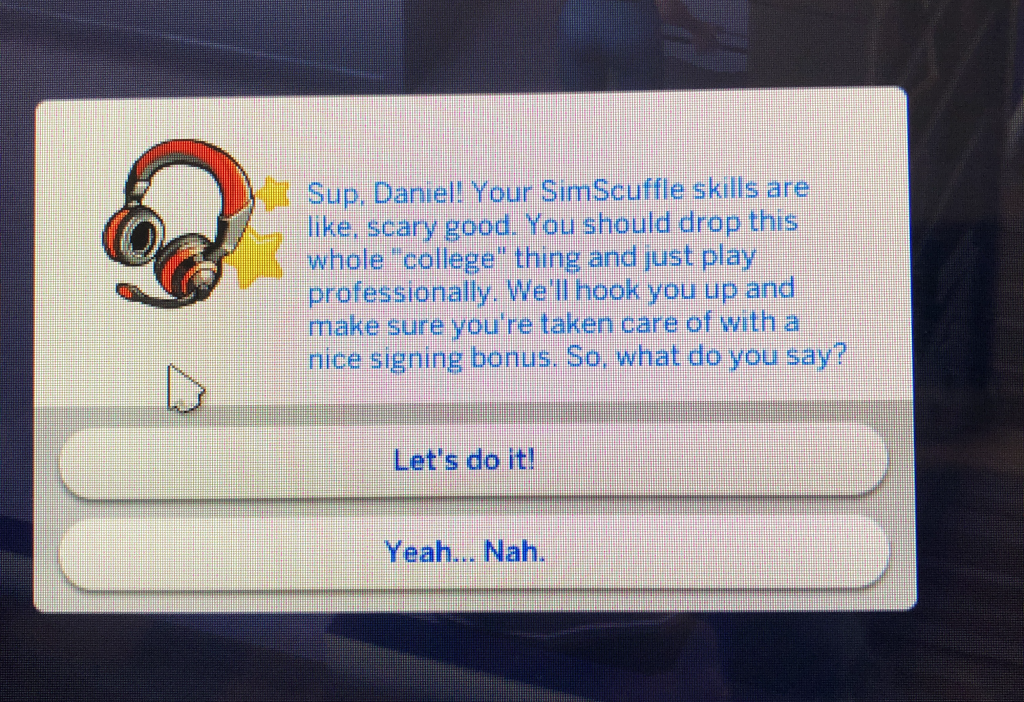 Dorms (are kind of like Penthouses)
Dorms are not just limited to the world of University. If you really wanted to, you could clear all of the lots and build an entire University town consisting of just dorms. If you don't like the pre-built lots in the University world of Britechester, you can bulldoze it all and build them yourself. The pre-built dorms are realistically empty.
You can manage your household funds more easily now
Players now have access to a new dialog feature when splitting and merging households. Before this was added, new households would have a max of 20,000 simoleons; the only way for a new household to have more than 20,000 is through cheating mods. You now have an option to type in a desired amount of simoleons that the new household will have when moving a sim from their household to a new household. If you choose 0 simoleons, your new household will move out with the option to be merged with an existing household. This is really handy when sending young adult sims way to college.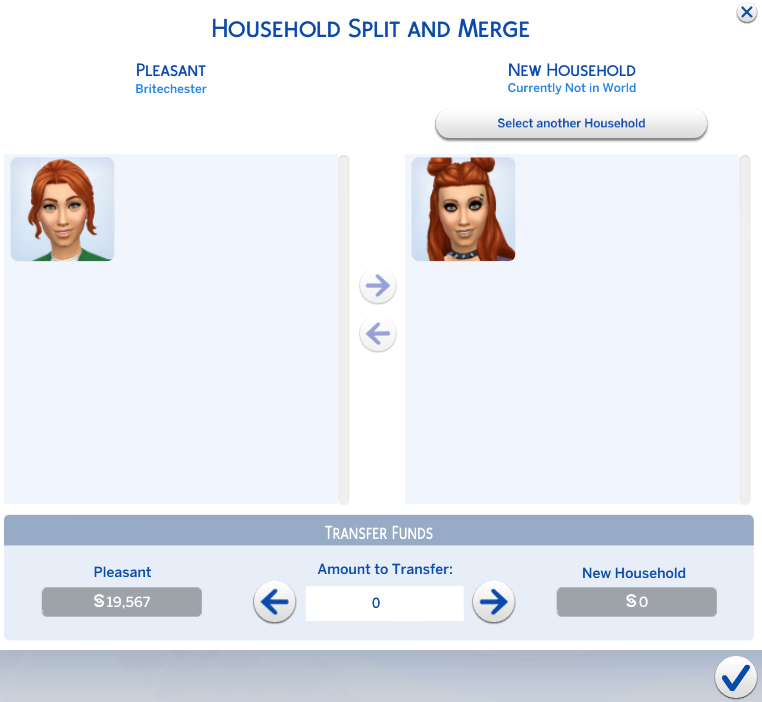 Sims can now lock their personal computer
Now when you click on a computer you can click a new button called "Computer Security Settings". A lot of the options are similar to the way locking a door works. With autonomy turned on in the game-play features, a lot of sims that you're not controlling will either watch TV or sit on your PC for hours. Now that you can lock your PC, it is less of a hassle to keep that under control.
Under the "clubs" tab that was introduced in the Sims 4 Get Together, you now have an "organizations" option
Each school, Britechester and Foxbury, has three organizations to choose from, as well as a "hidden" seventh organization, which is the secret society that students from either school can join. For players who have the Get Together expansion pack installed, organizations will be in the same panel as clubs, but under separate tabs. This is because organizations and Clubs function independently of each other. They are not the same thing. Unlike clubs, you cannot create your own organizations. Sims must join an existing organization and participate in its unique activities and events. Also, organizations are University-exclusive.
However, if Get Together is installed, there is nothing stopping you from creating your own clubs focused on University-related activities, like sororities and fraternities. They will just be treated as standard clubs rather than organizations with membership tiers and benefits.
Some Gripes
Classes are really cheap and I am patiently waiting for a mod to be released to remedy this. Making money (simoleons) in the Sims 4 is super easy and now made easier by the signing bonus you receive to careers once your Sim graduates from University. For my sims-self, all of my tuition was completely covered (I think it costs like…. 1200 per semester and scholarships covered it all).
Ovens are classed as forbidden objects in dorms. I think the Sims team tried to create an un-American university experience. For me, not having ovens in a dorm is really inconvenient, but you can always build a cafeteria on the lot. Also, sims will bring food to the lot and leave it there (I'm talking fully cooked lobster thermidor). It's not that big of a deal. The Commons lot has something similar to a cafeteria but… I wouldn't call it that. Also, the Dining Out pack is still broken so there isn't much of a workaround.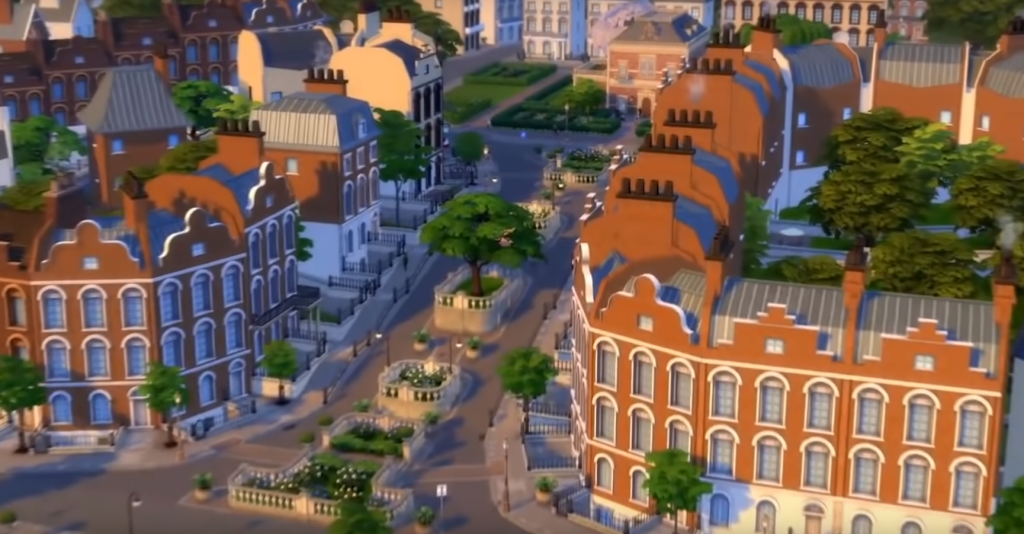 The world is stunning but the downside is the lack of interaction with the environment. All of the shopfronts are set-dressing. But there are lots of things you can do and places to go and lots of events that happen. For example, you can give a presentation, mentor students, play with your soccer ball, go to spirit week, debate club, etc.
From the trailer, I got the impression that robots would be an active class. I was wrong. Classes in Sims 4 Discover University are rabbit holes. But, overall, I felt as though active classes weren't necessary for me to enjoy this expansion pack. The active classes in Sims 3 became too repetitive to me and I'd rather switch to another sim in the household and fool around in build/buy rather than go with them and do the same interactions over and over. In Sims 3, you would travel with your sim and select "take notes" or "actively listen" and I much prefer clicking the option and getting it over with. You can still build a robot and have them wander about and whatnot similar to robots in the Sims 3.
The Sims team made graduation feel like an active event in the game-play trailer and I'm sad to say it's not. I waited around for graduation the next day and my Sim traveled to the University world and disappeared for a little bit then came back outside and threw her graduation cap in the air. We'll probably get a mod for it, maybe, but I'm still disappointed.
The user interface with this pack is another issue all on its own. In the Sims 3 University, you get a beautifully laid out table of your classes. In Sims 4 Discover University, your classes are jumbled under the career tab and you have to expand/collapse these to view all of your classes. I'm upset about this for a few reasons.
First, it's glitchy. My sims-self was enrolled in four classes and had a full-time job and if I wanted to scroll down the list to view my classes, the box would glitch back to the top of the list. When scrolling, I had to keep my mouse on the scrollbar to force my screen to stay on what I was viewing.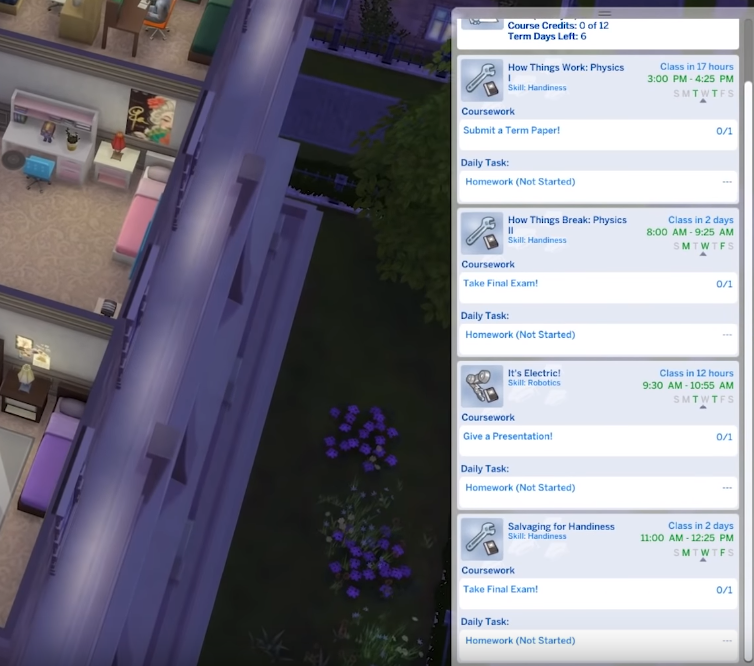 Second, Sims 4 has a beautiful calendar that was introduced in Sims 4 Seasons and for some reason, the Sims team chose to not utilize this feature. I guess the household calendar would end up looking bulky. But you know what's bulkier? Trying to view all of the classes on the sidebar. It was very hard to see what classes were on which day and this caused me to miss a few of them.
Overall, I would say this is the best University Sims pack that has been released so far. I think the benefits of this pack drastically outweigh the negatives.