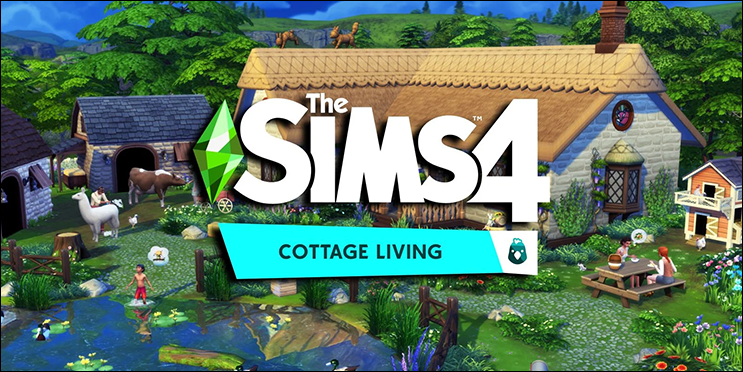 You Can Live Your Cottage Core Dreams In The New 'Sims 4' Expansion Pack
An expansion pack with lore and family gameplay…and it's cute?!
Cottage Living is the latest expansion pack for The Sims 4, where your Sims can bask in the quaint, English countryside of the quiet hamlet of Henford-On-Bagley and live out their cottage-core dreams! There are several different appealing aspects for every type of simmer; whether you're a create-a-sim player, or if you're just a player who likes to build, there's something in this pack for you.
In this new addition to The Sims 4, you can raise cows and chickens, befriend a few rabbits in your garden, order groceries (or even order delivery, if you'd prefer), live off the land, and interact with the locals for some hidden lore…and more! This pack has so much to offer, and it adds so much gameplay to the entirety of The Sims 4 world. You can seamlessly tie all of these new farming elements into the rest of your gameplay, which makes this a quintessential expansion pack to add to your collection. For example, if you have the Nifty Knitting stuff pack, you can knit sweaters for your farm animals—who wouldn't want to dress their newfound rabbit friend in a hand-knit sweater?
There are incentives to cultivating a farming lifestyle too. The new game calendar will show upcoming competition festivals at the town square that your Sims can participate in—compete pies, homegrown produce, and your livestock—these festivals will rotate and the mayor will decide the winner who will receive a handsome reward of simoleons and other prizes that may enhance the profitability of your farm.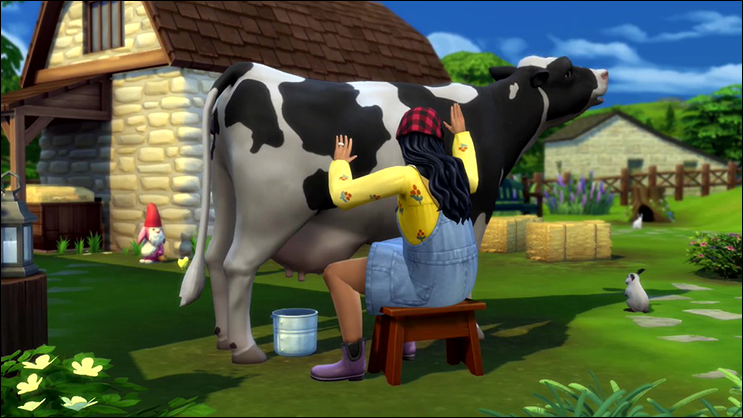 In addition to several new farming elements in the game and updates to gardening, there are also two new build/buy lot challenges to explore in your game that will add a layer of difficulty players might not be used to. The Lot Challenge Category includes challenges that can make gameplay on your Sims' lot more difficult. A few lot challenges were included in the free base game update on July 20, and The Sims 4 Cottage Living introduces the "simple living" lot challenge adds a realistic challenge of having to have all the ingredients when cooking, baking, canning or anything in between that requires your Sims to make food!
It's cute, it's fun, and it's honestly a great break from Stardew Valley if you're seeking something less stressful (I can't tell you how many times I've died in the mines now…I need a break). As much as I love this new expansion pack, would I say it's worth the $40 price tag versus Stardew Valley that's only $15 on Steam? Probably not. I'd still recommend you head over to Steam and pick it up over this pack, because as good as Cottage Living is, I still feel like The Sims 4 as a whole just doesn't feel complete unless you have all the other packs in your library. Stardew Valley is a complete game with regular free updates and hours upon hours of content…for only $15. It's a really good game, okay? If you love farming in games at all, give it a chance. You can check out my review and thoughts on it here.
If you pre-order the Cottage Living expansion pack by September 2, you'll receive a few goodies in-game like a new bike, a glowing gnome statue, and a beautiful tree adorned with fairy lights to place in your Sims' backyard. The Sims 4: Cottage Living is available now for Mac/PC on Origin and Steam, Xbox One and Xbox Series X|S, and PlayStation 4 and the PlayStation 5.
Image Credits: Electronic Arts