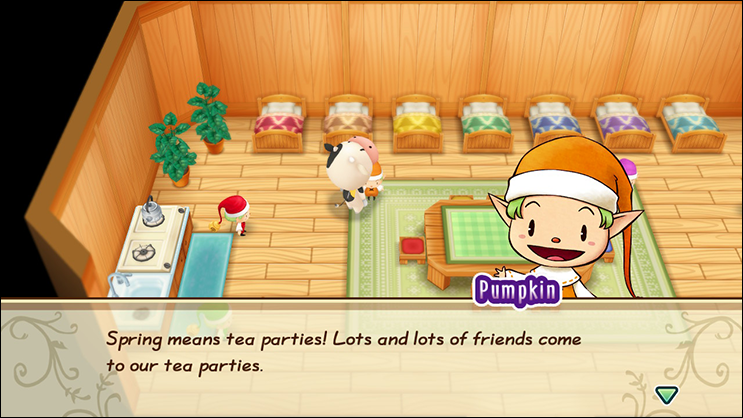 The Nature Sprite Tea Party In 'Friends of Mineral Town'
The Nature Sprites (aka 'Harvest Sprites') throw a fabulous tea party every spring at their cozy hut in Mineral Town, and if you're lucky, you could be invited! Better yet, if you attend the tea party, the Nature Sprites will gift you a super rare item—here's how to befriend the Nature Sprites and attend their seasonal tea party. Bear in mind, some of these can be spoiler-y. If you're looking for a clean experience, this guide may not be right for you.
NOTE: Story of Seasons: Friends of Mineral Town is a remake of the 2003 GBA release Harvest Moon: Friends of Mineral Town. You can read more about the company's rebranding here.
The Nature Sprites

The Nature Sprites live comfortably in their hut behind the Church in Mineral Town, and you can visit them any day during the year (their hut is closed on holidays, however), and either ask for assistance on the farm, give them gifts, or play mini games to raise their farm work skills. There are seven Nature Sprites in total, and they all love receiving Flour. You can also give them Grass that corresponds with their color. For example, Cherry likes Red Grass, Pumpkin likes Orange Grass, and so on. Both Aqua and Blueberry love Blue Grass. Grass grows on Mother's Hill during different seasons.
Befriend The Nature Sprites
In addition to the tea party, by befriending the Nature Sprites, you can also request assistance on your farm. Maintaining your farm, especially early on in the game when your Stamina points are low, can be a really difficult task, so befriending the Nature Sprites to help with farm work is very beneficial.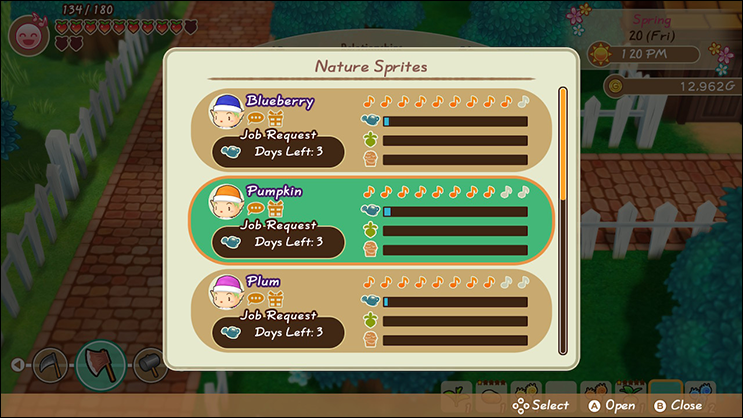 They can water crops and harvest crops, and help care for your livestock. Before you can ask the Nature Sprites to assist you on your farm, you must first befriend them by raising their Friendship Points (FP) to level three or higher. To view the relationship the Nature Sprites have with you, press "X" on your right joy-con controller to bring up the main menu, then tab over to "Relationships" and select "Nature Sprites". You'll find a list of all seven Nature Sprites with musical notes next to their name. When they have three or more, you can hire them to work on your farm, and you can begin playing mini-games to increase their farm work skills.
Their farm work skills are incredibly slow to build, and I find that asking them to work on the farm raises their skill much more quickly than playing the mini-games. In the screenshot above, you can see a small blue bar next to the watering can, which means they're watering skills are much higher than their harvesting and livestock care skill.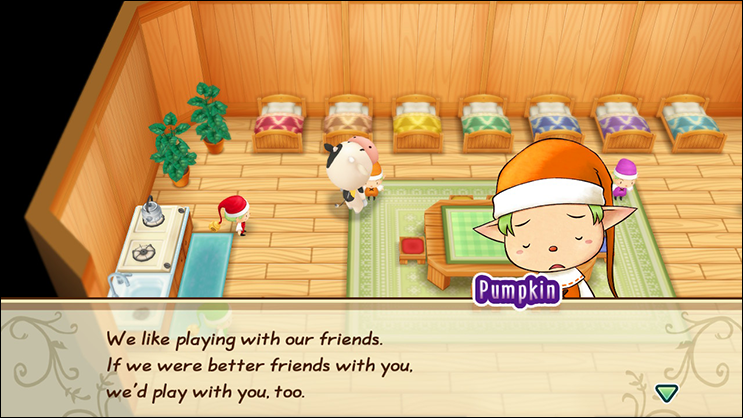 Once all of the Nature Sprites have at least three Musical Notes or higher, you will randomly receive a Tea Party Invitation in your Mailbox. You can hold onto the tea party invitation until you're ready to attend just be sure to use it before the end of spring! Once summer arrives, you will not be able to attend a tea party until next spring.
The Tea Party Invitation
After you've befriended all of the Nature Sprites to three Musical Notes or higher, you will receive a tea party invitation in the mailbox next to your farmhouse—just look for the mail received indicator that flashes above the mailbox. Remember that receipt of this invitation is entirely random, so it may take a few days before you see yours.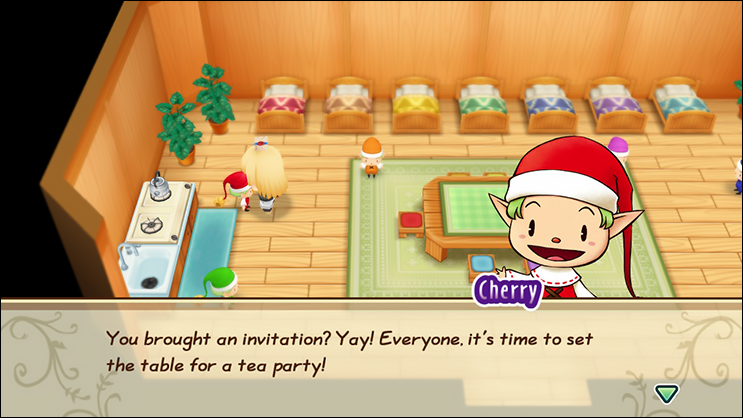 Arrive at the Nature Sprite with an empty slot in your rucksack hut anywhere between 10:00 a.m. and 5:00 p.m. and show the Tea Party Invitation to any of the Nature Sprites to begin the tea party. Bear in mind, if any of the Nature Sprites are out working at your farm, the tea party cannot begin, so be sure to bring the invitation with you when all Nature Sprites are present at the hut. If you want to hire them on your farm, you can hire them the same day as the event, since they will begin work the following day.
After attending the tea party, you will receive +10 FP with all Nature Sprites.
The gift you receive has several uses and it can only be received from the Nature Sprite tea party—you can sell the Relaxtea Leaves for 1,000 G. If you have the recipe and the kitchen unlocked, you can make Relaxation Tea. Also, you can give Elly the Relaxtea Leaves for +300 LP, and Marie will receive +800 LP if you give her the Relaxtea. If you give Marie the Relaxtea Leaves, she will receive +500 LP.
The recipe for Relaxtea is taught you to by Lou once you have cooked eight of her recipe prerequisites. To make Relaxtea, you need to combine all of the colored grasses (black, blue, indigo, orange, purple, red, yellow, and white) using a Knife and a Frying Pan.
Lou will arrive in Mineral Town once you've gifted 75 Total Gifts to the Harvest Goddess. For more information on Harvest Goddess gifts, I have a handy guide here.
At the end of the tea party, the Nature Sprites will reward you with a rare gift, so be sure to have an empty slot in your rucksack before attending. Also, the tea party lasts all day. The tea party will always end at 6 p.m., so be sure to finish all of your chores before handing the invitation over to the Nature Sprites.