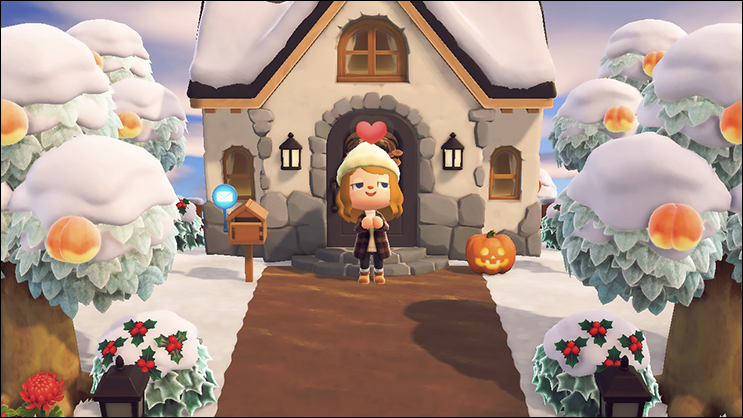 'Animal Crossing: New Horizons' For The Holidays
A warm and fuzzy way to spend the holidays!
I've always been an introvert, so being able to celebrate the holidays from the comfort of my home without needing to visit friends and family is ideal, and Animal Crossing delivers. The Animal Crossing series always offers amazing experiences for players, and starting late November (in North America), Animal Crossing: New Horizons starts seeing changes to the weather—snow flurries will eventually cover the ground in a blanket of snow, and Isabelle is true to her word—any holly bushes you've planted will begin budding, Christmas lights will start going up around your island, Nook's Cranny and Resident Services plaza slowly receives more holiday-themed decorations, and the days begin getting shorter. You can also pickup some cute Christmas sweaters at the Able sister's store starting December 1st. Plus, Nintendo is launching an update after Christmas that will include a New Years celebration—an even better way to start the new year (let's face it—2020 was a rough year)!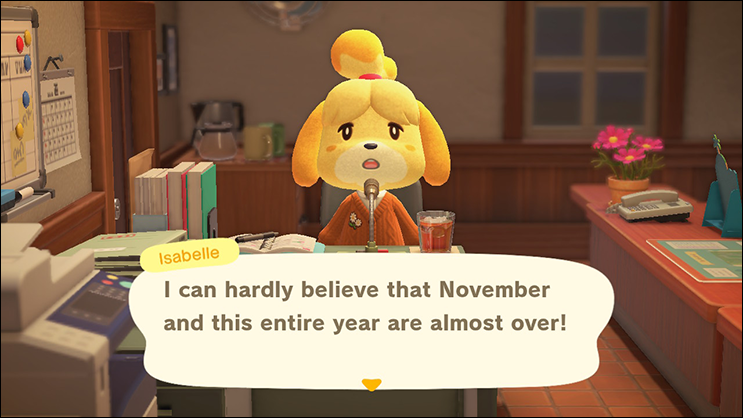 I'm a sucker for cute holiday decorations, and Animal Crossing: New Horizons really got me in the festive mood with the launch of patch 1.6.0. I played Animal Crossing on the GameCube when it first came out; I even still have my old GameCube sitting on our entertainment system, with the original Animal Crossing memory card, disc, and booklet. The old game didn't have continuous updates the way that Nintendo has done with Animal Crossing: New Horizons, but it's still a great game! I genuinely miss staying up super late with my cup of hot chocolate, just waiting for Jingle to appear on my GameCube, and nabbing my Christmas gifts! Now that it has been confirmed that Nintendo is bringing iconic characters like Franklin and Jingle back, I'm more excited than ever to celebrate the holidays in Animal Crossing.
Launching Animal Crossing on the Nintendo Switch feels like coming home—it feels warm and welcoming right away. The animal residents will greet you immediately, and if you haven't been around for a while, they'll notice that, too. This game provides an element of social interaction that some of us may be missing for the holidays, or in my case, it provides a warm and fuzzy comfort just knowing that I have responsibilities and a place to call home…outside of my own home. When I turn to my mailbox and see not just one, but three pieces of mail that my residents wrote just to tell me they've missed me, I get a feeling of interconnectedness (you can even interact with the snowmen). Of course I want to spend the holidays with friends and family, but my island residents deserve attention, too!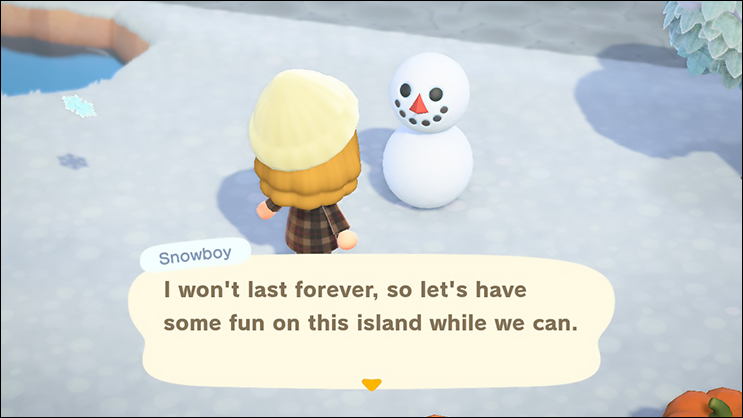 Every day that I sign in, Isabelle is there to greet me and tell me of any news. Animals residents have pet names for you, they share stories, and they interact with each other and go about their daily lives even when you're not there in ways that never existed in Animal Crossing before now. On the GameCube, sometimes your residents would really peeve each other, but in Animal Crossing: New Horizons, they might actually get their feelings hurt. I don't like it when Vivian talks smack to Winnie, but the interactions between villagers really makes the game feel alive.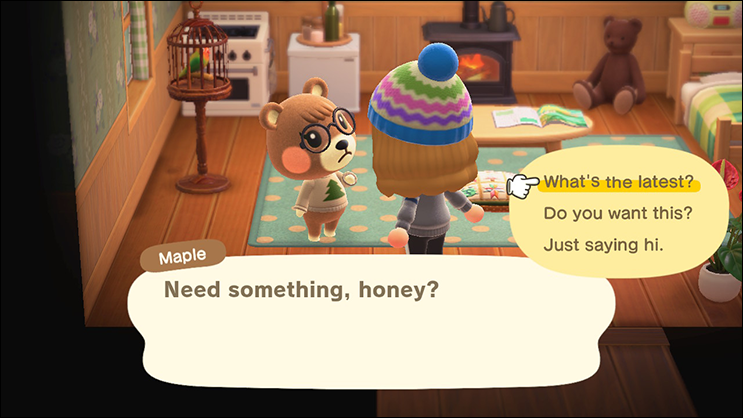 When you give clothes to your island residents in New Horizons, they'll happily put them on for you, so of course every villager has a Christmas sweater from me just in time for the holidays. I've crafted the Snowflake Wreath for every door, and I've strategically placed villagers' homes and holly bushes around my island just the way I like it. These are just examples, but you really get to choose so many minute details to make your island feel like home. Tom Nook may sneak a price tag onto some alterations, but that's just the way of the game. Beyond socializing, personalizing your home and island is something you completely control to make it feel more like it's yours. Your home and island truly belong to you, so it's only natural you'd want it to be as cozy and inviting as you possibly can, because it's yours. When you get off work and login to Animal Crossing to see mail, gifts, your favorite villager singing in the plaza, it's a truly relaxing experience that you can't get from any other game.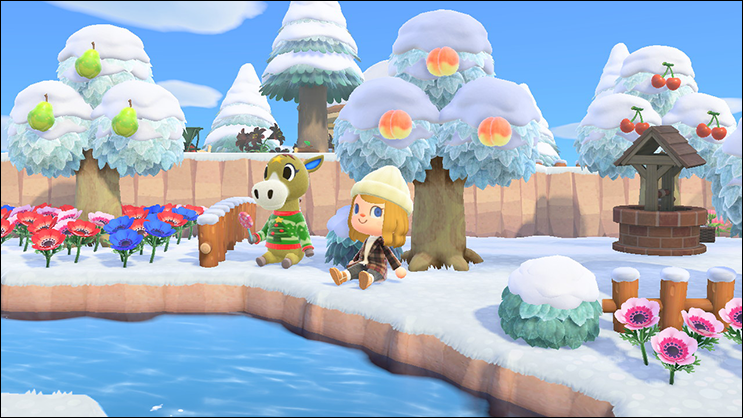 Animal Crossing gives players the opportunity to not be alone during the holidays—whether you're playing online with friends and family across the world, or if you're enjoying it alone with your animal residents, Animal Crossing presents so many unique ways to de-stress and enjoy the holidays. During the entire month of December, Nook's Cranny will sell toys for Toy Day, and you can prepare your island with numerous Snowflake DIY recipes to decorate for the holidays. You can send friends and family gifts and personalized postcards in Animal Crossing: New Horizons, and you can invite them over to your island for this years' countdown event for the New Years Celebration to show off your all of your holiday décor.
---
Follow me on Twitter to get notifications on my published works here and elsewhere!