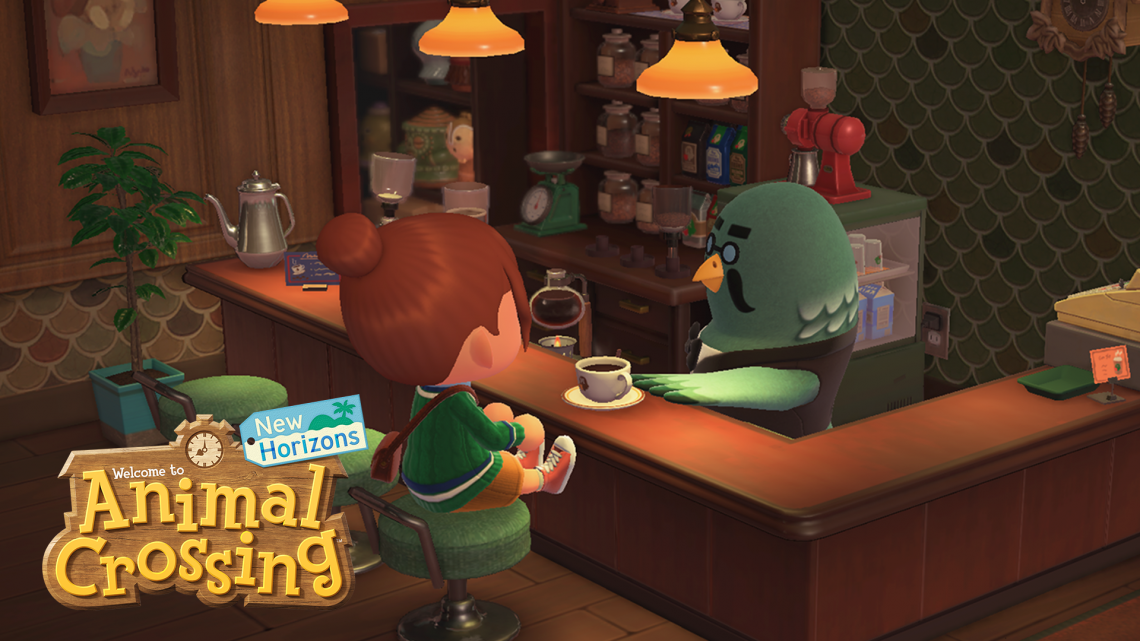 Why I Will Continue Playing 'Animal Crossing: New Horizons' After The Final Update
Lack of updates won't stop me from enjoying this game.
On October 15, 2021, Nintendo confirmed in their Animal Crossing: New Horizons (ACNH) trailer that version 2.0 update and its Happy Home Paradise DLC will be the final major update to the game that has sold over 33 million copies since its launch in March 2020. Animal Crossing: New Horizons' version 2.0 update and Happy Home Paradise DLC will be the final major free and paid content updates, and apparently, it's making plenty of players upset. What does this mean? Well, it means that Nintendo will (assumedly) not be making anymore content for Animal Crossing: New Horizons, even though it's their second bestselling game, right after Mario Kart with over 37 million copies sold.
While it sucks that no new content will be made for the game, it makes sense. The last Animal Crossing game released on the Nintendo 3DS was fundamentally the same game as ACNH and it even had its own Happy Home Paradise DLC equivalent: Animal Crossing: Happy Home Designer (2015) for Animal Crossing: New Leaf (2012). However, in order to purchase Happy Home Designer, you did not need Animal Crossing: New Leaf, as it was entirely independent, although it did come with an amiibo card! Happy Home Paradise for the Nintendo Switch has familiar characters taken from Happy Home Designer, and offers several identical features such as:
Design the interior and exterior of hundreds of homes for animal villagers
Leave your decorative touch on the school, hospital and other public facilities
Exclusive furniture items
Introduces familiar NPCs such as Lottie
As you can see, the Happy Home Paradise DLC for ACNH is the same DLC introduced in the past, and Nintendo is following a trend to not expand the game beyond that, which makes sense that Happy Home Paradise will be the final installment. There are several features that fans wanted for ACNH such as lemon trees, the ability to craft several items at a time, more villagers and villager interactions, and more. I've noticed that all Animal Crossing games released after the original Animal Crossing for the GameCube have all been almost identical to one another, and with that knowledge it doesn't make sense that they would begin adding additional features to an already nostalgic game.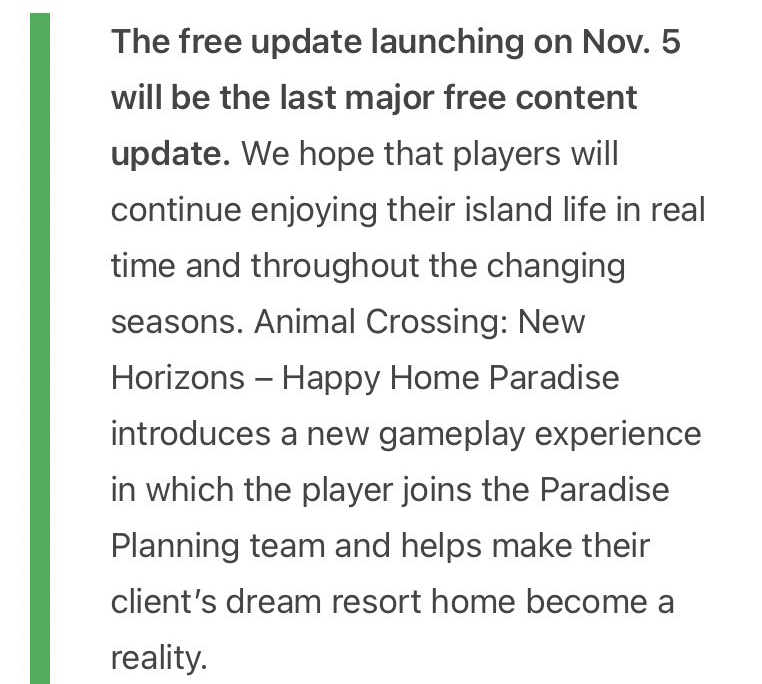 In IGNs recent interview with Nintendo, IGN confirmed the Happy Home Paradise DLC and the version 2.0 release will be the final major free and paid updates to the game.
Nintendo is really pushing players to enjoy the game for what it is: a relaxing game to enjoy day to day. And honestly, that makes sense to me, because it is what the Animal Crossing series has always been. I talk about that in length in this post on Animal Crossing gameplay themes in this post here. I also talk about how amazing Animal Crossing is for players who enjoy the holidays, since there are so many holiday-themed features to enjoy, alone or with friends. And of course, I wrote a published article explaining my opinion on how Animal Crossing really boomed due to the nature of the game and it's interconnectedness between players earlier in the Covid-19 pandemic when everything began going into lockdown. Several fundamental elements about this game made it thrive during the Covid-19 pandemic, and depending on what type of player you are, it's a game meant to be enjoyed for several years to come, even without the constant promise of steady updates.
Maybe it's become I am a millennial who remembers a time when games did not receive online updates, instead, games were ready to play on the day of release. In those times, video game publishers such as Nintendo knew that to make sales, their games had to be, well, good. Video game enthusiasts  didn't have to deal with catastrophes such as Fallout 76. And in order to enjoy a game, a constant stream of additional paid content wasn't required to fully enjoy a game because they were just complete. Past Pokémon, Harvest Moon, and Final Fantasy titles come to mind: none of the older releases offered several hours of gameplay and did not require paid DLC to improve. Video games aren't really built like that anymore.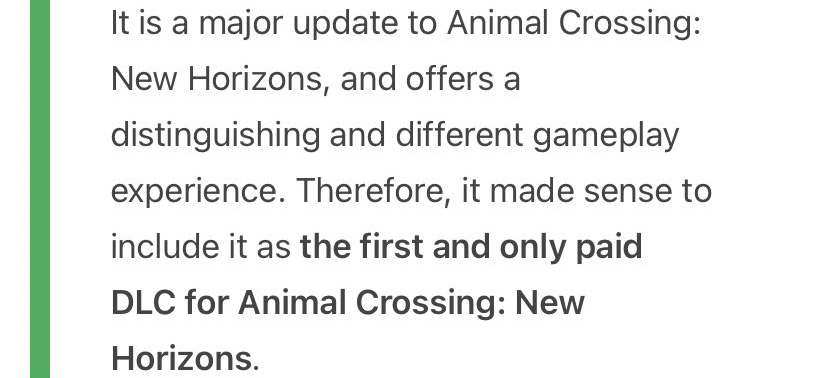 There are several goal oriented elements that actually take a long time to complete. My original save file doesn't tell me just how many hours I've spent in ACNH, but I've been playing religiously since day one, and I still do not have my Critterpedia finished or the Nook Miles catalog completed. I also caved and purchased the Animal Crossing Special Edition Nintendo Switch last month to have another island to play on. Even though there won't be any additional updates for this game, and I had hoped that players could one day purchase an additional island to build, structure, and populate, I know I'll still play it because it's a unique game meant to be enjoyed on a day to day basis over the course of several years, and that's perfectly fine with me.