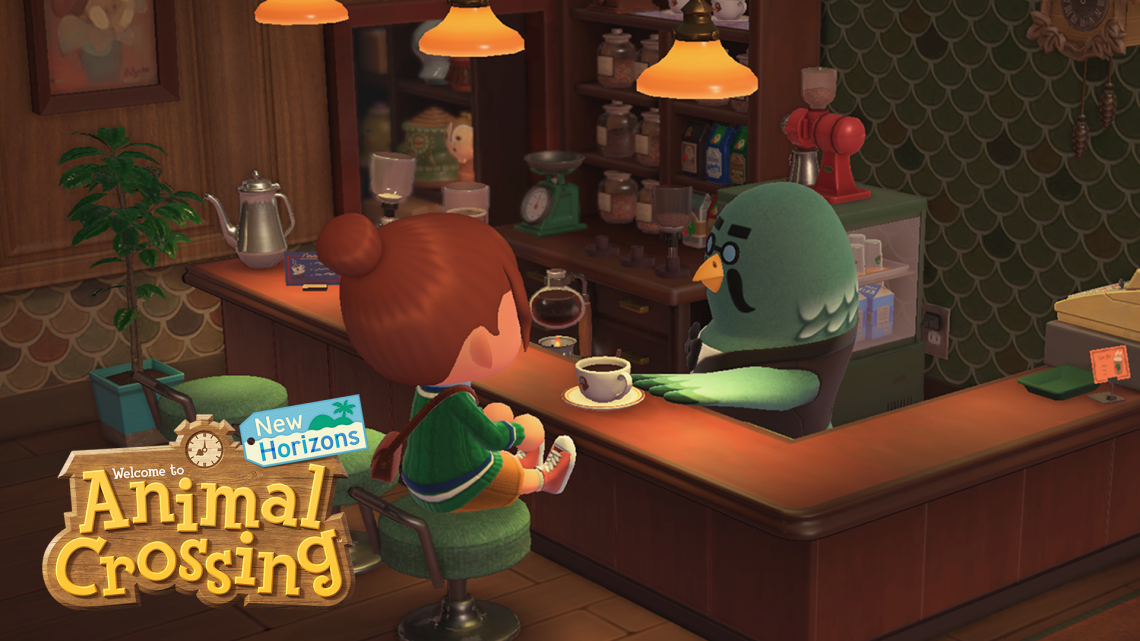 An FAQ For The Animal Crossing: New Horizons Version 2.0 Update
The final Animal Crossing: New Horizons version 2.0 free update has been released and with this release came a lot of additional features and gameplay. Since there is an incredibly enormous amount of new content, I figured it would be a great idea to create a major FAQ page containing all that the 2.0 version update had to offer. So without further ado, here is a list of everything that is new, including how and when to unlock particular features and gameplay mechanics.
#AnimalCrossing: New Horizons Direct 10.15.2021https://t.co/T1GXs2Kq2R

— Nintendo of America (@NintendoAmerica) October 15, 2021
Shown above is a video of Nintendo's version 2.0 trailer plus information about the Happy Home Paradise DLC.
How To Update To Version 2.0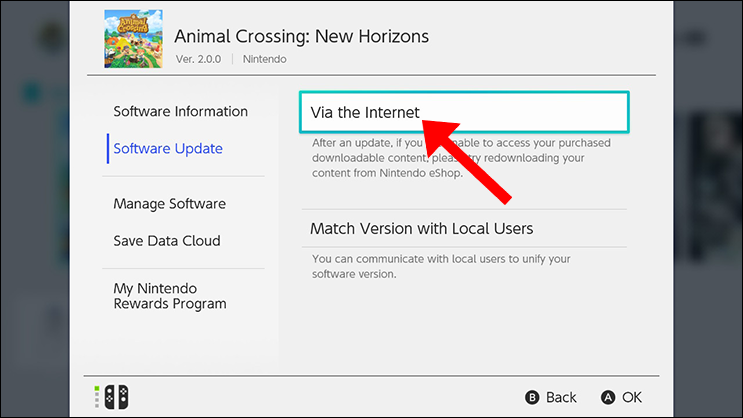 First of all, you must have an internet connection. While on the Home screen, hover over the Animal Crossing: New Horizons game and press the + button on your Nintendo Switch controller. Then select "software update". Your Animal Crossing: New Horizons version is displayed in the upper-right menu of the start screen.
New Shops on Harvey's Island
Are you tired of waiting for Leif to come around to your island? Well, now you can pay 100,000 Bells to help him set up shop on Harvey's Island to avoid the hassle of waiting for him to come around!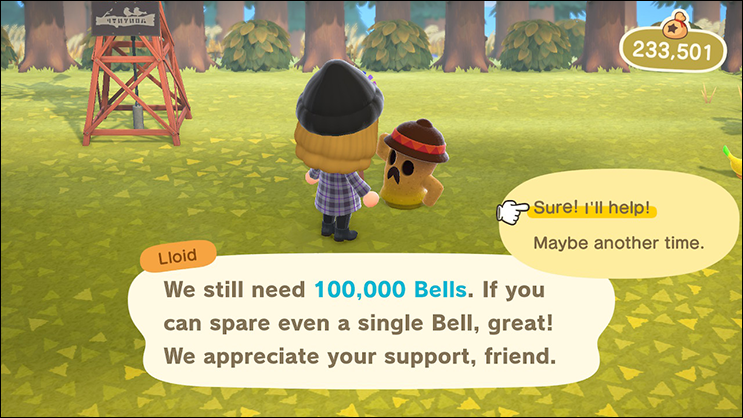 To activate this new event, you must visit Harvey's Island at least once. You will encounter Harvey as he can be found randomly roaming around your island a few days after you begin selling plots of land on your island. There are a total of seven shops to open:
Kicks: Last but not least, Kicks has a few new things available at this shop. Including a sword for 9,800 Bells.
Redd: Redd will offer two special art pieces that can be donated at the art museum, but be careful, as they can still be sold as fake art pieces. He will also have a raffle, it's 500 Bells per ticket, and there are approximately 30 new items available. You can do this as many times as you like.
Leif: Everyone loves Leif, especially now that he sells the plants needed to grow for cooking ingredients. His inventory at Harvey's Island is a little more expansive that what you'll see when he shows up on your island. At Harvey's Island shop, he will have two crops to choose from, new shrubs starts, and the usual flowers. He will purchase any weeds you have, and for 100,000 Bells, you can also hire him for a weeding service! You must have a considerable amount of weeds on your island for this service to be available.
Reese and Cyrus: When you talk to Cyrus, he will ask if you'd like to customize any of your items in your current inventory. There are plenty of special options here, as some patterns are only crafted by Cyrus. There are plenty of beautiful options. Price customization varies.
Tortimer: Ah yes. The King of Animal Crossing. If you talk to him, you will gain access to your home storage to deposit or withdraw, which is very helpful for Reese and Cyrus who are right next door.
Sahara: You can finally see her selection when you talk to her so you know what you're getting! Wonderful.
Katrina: For 1,000 Bells she will tell your fortune and give you a reading of your relationship with villagers on your island. This is a great way to get an idea of how close you are to unlocking a villagers portrait! For 10,000 Bells, she will enhance the relationship between your character and a villager on your island.
Once you paid in full for a shop placement, you cannot contribute more Bells to another gyroid that day. Additionally, Harriet will have one hairstyle to unlock each day. Several of these shops can only be accessed once per day, so be sure to check out daily!
Where To Find Brewster And Open The Café
Once your island museum has the art expansion, talk to Blathers. He will urge you to find Brewster—once you have this prompt, Brewster will appear on one of Kapp'n's islands. Kapp'n can be found at the pier on your island. Talk to him, and you'll have the café two days later. You can only use Kapp'n's boat once per day and it costs 1,000 Nook Miles Tickets.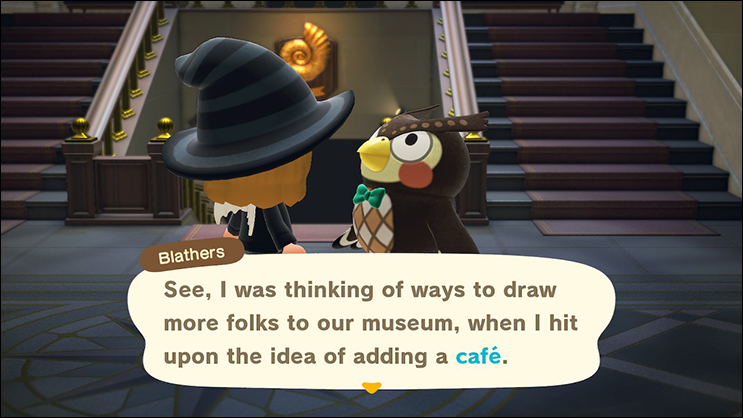 You can invite any characters you may have, including special DLC, using Animal Crossing amiibos. I wrote a handy guide on how to use amiibo cards here.
Kapp'n Mystery Island Boat Tours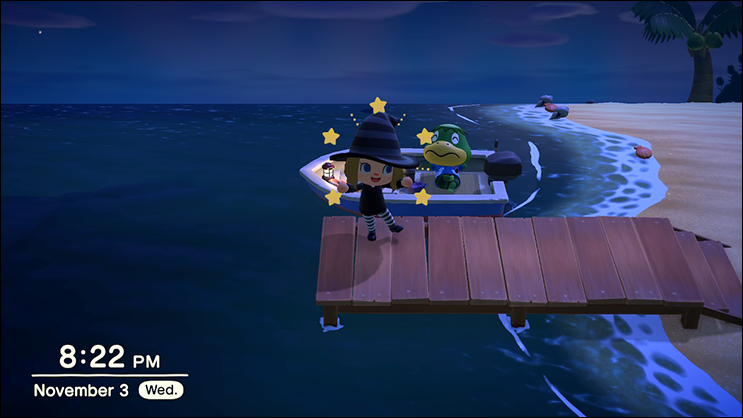 For 1,000 Nook Miles Tickets, Kapp'n will ferry you to a mystery island where you can find Brewster and Gyroids hidden in the ground. This special bout tour can only be accessed once per day.
Where To Find Gyroids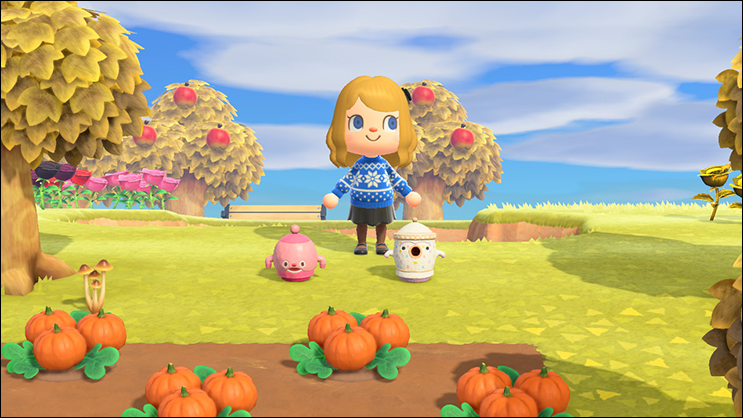 These little cuties have finally made a comeback to New Horizons from the OG Animal Crossing GameCube game. To find this guys, take a boat trip to Kapp'n's island and dig at any star-shaped prints on the ground. Gyroids buried underground will emit a smoke effect from the ground. Take them to your island, plant them, water them, and dig them up again the next day to have your very own to place on display!
The Storage Shed At The Nook Shop
You must finish paying off your home loans and buy the first home storage expansion! Once you do that, the storage shed will be in the items portion of your Nook Miles redemption. You can place these around your island.
New Island Ordinances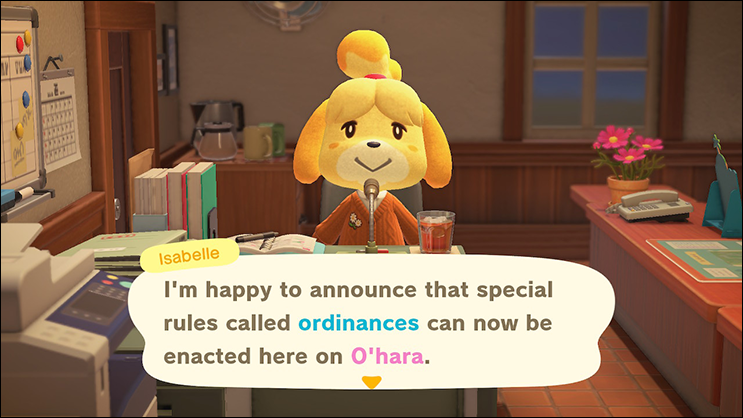 These can be found at Isabelle's counter at the Resident Services building. You can now enforce special rules called ordinances on your island! There are ordinances to make your villagers wake up early, or wake up later in the day, and there is an ordinance to enforce weed organization.
Group Stretching At The Plaza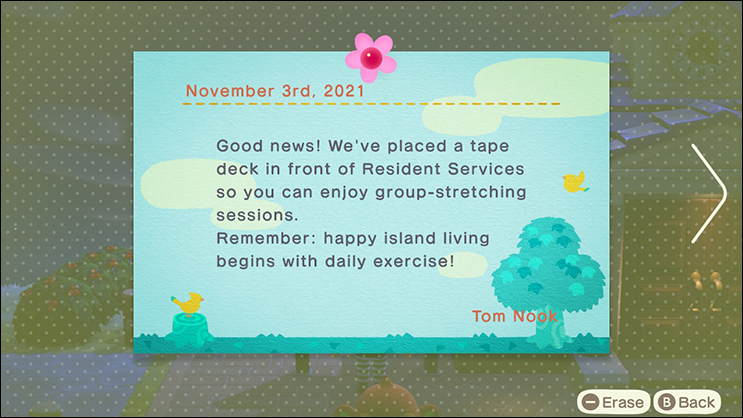 Group-stretching sessions are now available in the plaza every day! Just use the tape deck in front of Resident Services to get started—they're a great way to stay active and limber. It builds a relationship between your villagers too! Be sure to check out the new Reactions available such as Yoga and Stretch.
Crops For Cooking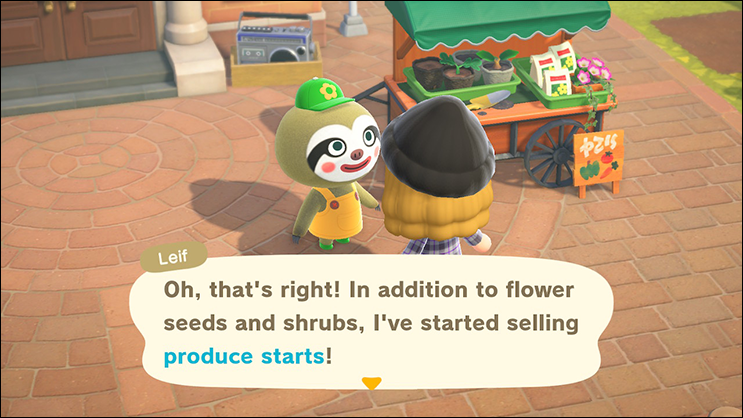 Once you've updated to Version 2.0, Leif will sell crops at your island or at Harvey's Island once you've paid 100,000 Bells to move him in He will have one crop when he visits your island, and two (plus the new plumeria bushes) when you pay for his trailer on Harvey's Island. And of course there are new cooking recipes (EEKKK!!)
New Cooking Recipes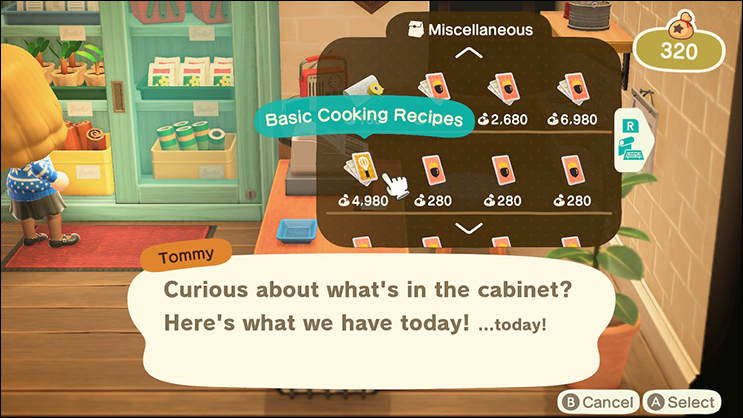 By purchasing the Basic Cooking Recipe at Timmy and Tommy's Nook's Cranny shop for 4,980 Bells, you can unlock the Stonework Kitchen DIY recipe to place in your home and begin cooking recipes! You can give recipes to villagers as gifts or eat them to receive a full strength bonus. As noted above, to grow the ingredients for these recipes, you can purchase them from Leif's shop in the Resident Services plaza or at Harvey's Island once you unlock his booth. Remember the booth costs 100,000 Bells!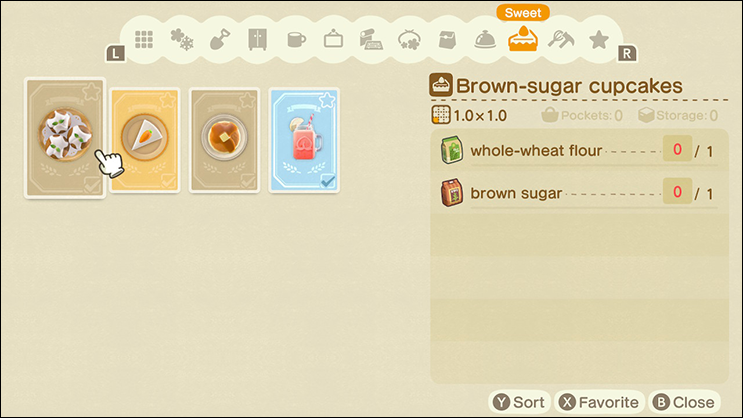 There will be new DIY recipes categories such as Savory, Sweet, etc. Crops can be grown on your island.
The New Shopping Items

Start checking your Nook Shopping app, or the Resident Services kiosk daily to check for new collections and items, such as the new Cool and Patchwork furniture set. There are now four items in the special goods section. Otherwise, check Timmy and Tommy's Nook's Cranny shop for new items.
Museum Poster Collection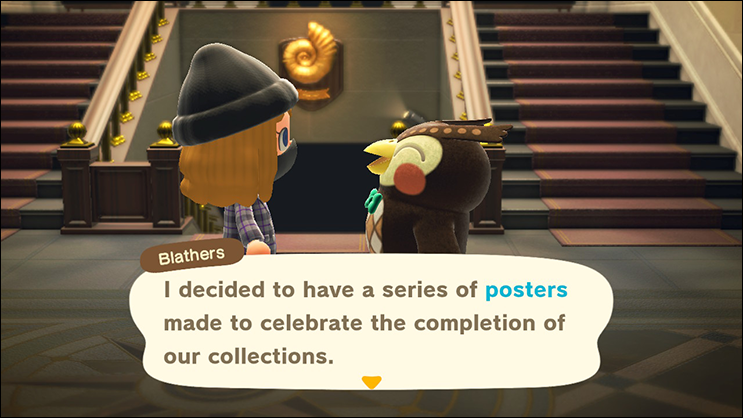 Once you've completed a collection at the museum, such as the Fossil or Bug collection, Blathers will sell a poster to you to hang up in your home for 5,000 Bells.
Villager Visits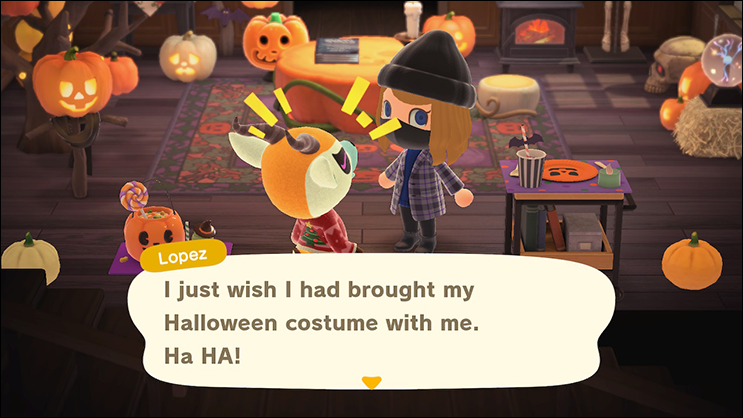 Once of the most exciting things in this update that really brings interaction with your villagers alive is the ability to receive random guests in your home and invitations to visit a villagers home! In the image above, I was in the process of decorating my home, and got a random knock on the door from my dear Lopez. He commented on my Halloween décor, played a card game with me, and plopped on my floor for a bit to hang out.
There are so many reasons to continue playing this game, even after the final update release, and I hope to continue adding to this list as I discover more things to unlock and epxlore!